Hawaiian Collection
Aloha & Welcome to my online studio and collection of selected paintings.
I strive to paint a world of wonder, color and joyful respite.
Most of my paintings begin " en plein air ", capturing the essence of my subject ...
I enjoy the process... I enjoy exploring the challenging characteristics ...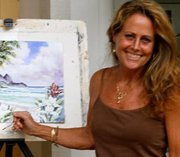 I invite my viewer to experience that moment in time.
Full of life ...Enter in, enJOY !